ECommerce and Online Marketing Strategies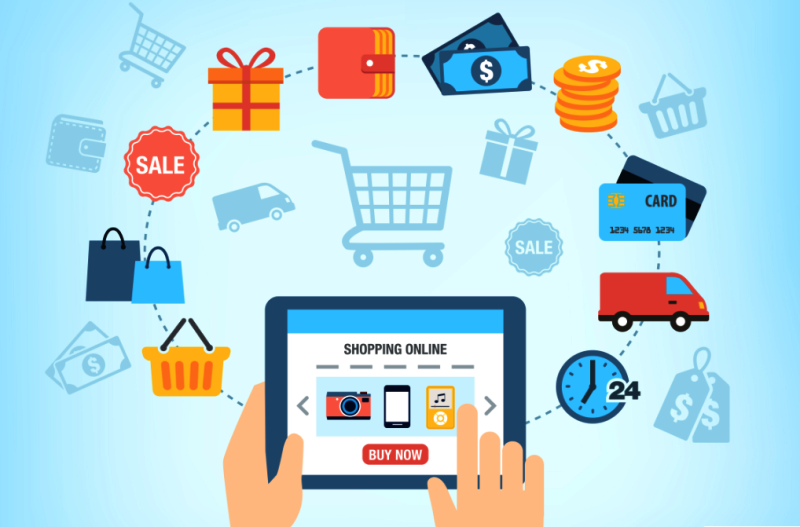 E-Commerce is an Electronic Commerce. It is the buying and selling of goods and services, or the transmitting of funds or data, over an electronic network, primarily the internet. With the explosive growth of the Internet, E-Commerce now often refers to purchases made from website with online stores. E-Commerce includes:
Online business to business transactions
Online business to consumer transactions
Digital delivery of products and services
Online merchandising
Automated telephone transactions, e.g. phone banking
EFTPOS and other automated transfer systems
Categories of e-commerce
B2B (Business to Business) —
This involves companies doing business with each other. One example is manufacturers selling to distributors and wholesalers selling to retailers.
B2C (Business to Consumer) — B2C consists of businesses selling to the general public through shopping cart software, without needing any human interaction. This is what most people think of when they hear "e-commerce." An example of this would be Amazon.
C2B (Consumer to Business) — In C2B e-commerce, consumers post a project with a set budget online, and companies bid on the project. The consumer reviews the bids and selects the company. Elance is an example of this.
C2C (Consumer to Consumer) — This takes place within online classified ads, forums or marketplaces where individuals can buy and sell their goods. Examples of this include Craigslist, eBay and Etsy.
Marketing Strategies (Web Vs Traditional Media)
Most marketing strategies still apply to the web as a new media.
Advantages of the web as a new media:-
Media available 24x7 from virtually anywhere in the world.
Easy and immediate distribution of information to masses.
Expand your market reach to a global worldwide audience.
Potential to present multimedia information and to interact with visitors.
Enhance customer service.
Can be used to gather information about customers via online contests.
The Strategic Role of E-commerce
Communication device with customers
Alternative distribution channel
Valuable medium for delivering services
Tool for gathering market research data
Method for supply chain integration
Extends reach
Integrate into day-to-day
Enhance customer focus, responsiveness, and relationships
Reduces transaction costs
Integration into supply chain
Focus on core business
Access to global markets
E-Commerce and Online Marketing can:-
Increase your visibility and accessibility in the worldwide market.
Increase your sales leads.
Reduce your administrative costs through B2B.
Add a new dimension to your marketing promotions.
Help you get closer to your customers and understand better
Greater focus on customer relationship management and loyalty building.
Attracting new business and ensuring incremental business from existing clients.
4:38:31 PM
Thursday, February 18, 2021
Comments