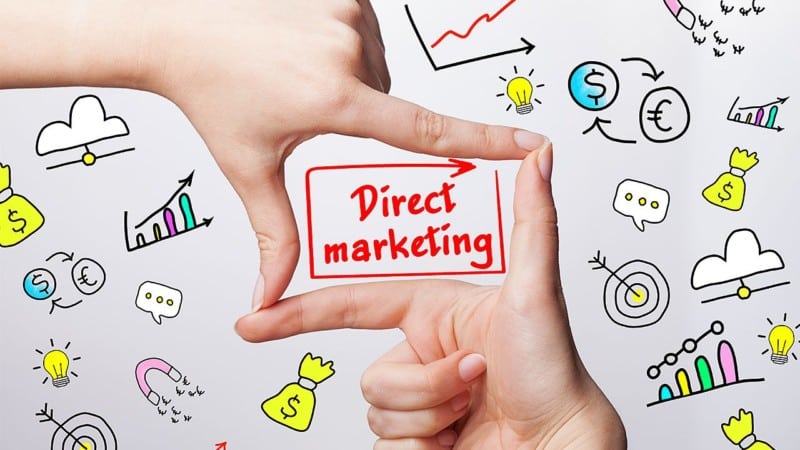 Direct marketing takes place when companies promote their products directly to potential buyers and provide a method for them to make a purchase. Digital Marketing is a direct marketing channel. It is a good and new marketing tool to easily communicate with customers. In an era of consumer empowerment, direct, two-way relations with their customers can help CPG brands differentiate themselves, and gain competitive advantage. Companies can increase revenues, reduce churn, and compete effectively with new entrants, through digitally driven product innovation, direct marketing, and cross-channel selling. It is the fastest-growing form of marketing. It is an element mixture of promotion. It is the direct integrate with the customer and makes a strong buildup between customer relationship. It is connected directly with carefully targeted segments or individual consumers, often on a one to one interactive basis. Examples of direct marketing include television infomercials, direct mail offers, and Internet sites.
GROWTH AND BENEFITS OF DIRECT MARKETING
Benefits to Buyers: -
Buying direct can mean dealing strictly with the manufacturer without the intervention of a third-party retailer or distributor. It may have access to special offers that are only available through direct marketing. It is a convenient way. It is ready to access to many products. It is easily accessible to comparative information about companies, products, and competitors. It is the best immediate and interactive way. It is easy to purchase. It can be easy for a buyer to customize the product or service to their exact specifications through direct marketing. There is no need for face-to-face interaction.
Benefits to Buyers: - Direct marketing is a tool to build customer relationships. It is a flexible and low cost & low-risk entry point, an efficient, fast and alternatives method to reach marketers. It is easily accessible to buyers not reachable through other channels. Direct marketing makes you be your own boss. You can choose your own flexible work schedule, benefits people that have other commitments, such as family or another job.
Direct Marketing works on the effective customer database. Customer Database is an organized collection of comprehensive data about individual customers or prospects, including geographic, demographic, psychographic and behavioral data.
FORM OF DIRECT MARKETING
Personal Selling Direct Marketing
Direct-mail Direct Marketing
Catalog Direct Marketing
Telephone Direct Marketing
Direct Response Television Marketing
Digital Direct Marketing
Online Direct Marketing
Kiosk Direct Marketing
DIRECT – MAIL DIRECT MARKETING
Direct Mail marketing involves offers, reminder, announcement or another item to a person at a particular address. It is personalized and easy to measure results. It provides the better result than mass media.
CATALOG DIRECT MARKETING
Catalog Direct Marketing involves printed and web based technologies. Web Based Technology has the lower cost than printed technology. It is real-time merchandising with interactive content. It has promotional features and provides the unlimited amount of merchandise.
KIOSK DIRECT MARKETING
It provides the information about product or service information and ordering machines are placed by companies in stores, airports, hotels, college campuses and other locations.
TELEPHONE DIRECT MARKETING
Telephone Direct Marketing involves using the telephone to sell directly to consumers and business consumers. It is an outbound telephone marketing sells to directly to consumers and businesses. And also for an inbound telephone marketing users toll-free numbers receive orders from television and print ads, direct mail and catalogs.
DIRECT RESPONSE TELEVISION MARKETING
Direct response television marketing involves 60 to 120-second advertisements that describe products or give customers a toll-free number or website to purchase and 30-minute infomercials such as home shopping channels. It is less expensive other than a form of promotion. It is easier to track better results.
DIGITAL DIRECT MARKETING
Digital direct marketing involves direct bulk email marketing, mobile SMS marketing, podcasts, broadcasts and interactive TV. They are able to dramatically increase the relevance of their marketing communications by combining data from multiple channels into one marketing data mart -- a foundational element of direct digital marketing.
PERSONAL SELLING DIRECT MARKETING
Personal selling direct marketing directly deals the seller seeks to develop relationships with customers and makes use of communication and negotiation skills to close the sale of a product or service that is complex and cannot sell on its own off the shelves in a marketplace. It is the oldest form of selling while direct marketing is being used increasingly by small and big companies to increase their sales. It requires an oral presentation on the part of the salesman in a bid to close out a sale.